Nature Across Boundaries:
What Can We Do To Keep Lands and Waters Connected?
Mon Nov. 6, 2017, 9 – 4:30 pm
Ecosystems such as forests, wetlands, and streams support wildlife habitat, outdoor recreation, scenic views, and provide critical services to local communities such as clean water and climate and ecological resilience. However, throughout the world, the health and function of these natural systems are increasingly broken down by incompatible development patterns that fragment and degrade the ecological functions and landscape. In New York State, boundaries created by municipal borders and property lines result in a patchwork of land uses, with little consideration for the broader context of natural systems or coordinated approaches necessary to conserve them.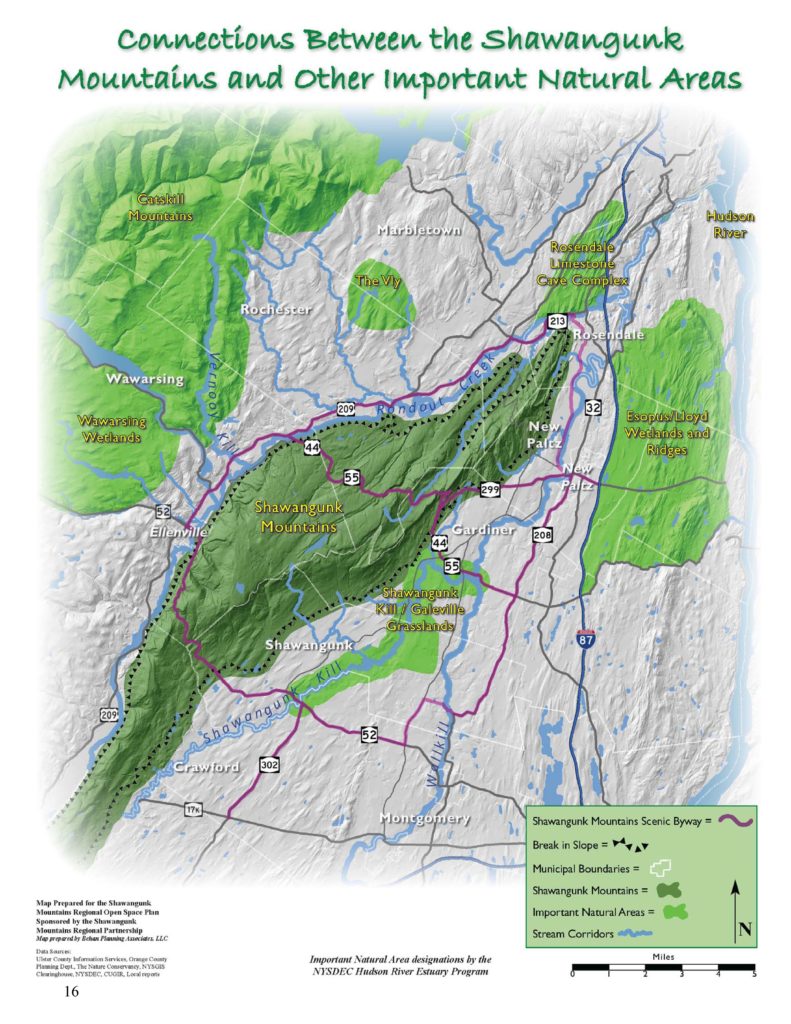 The Shawangunk Mountains Regional Open Space Plan (2008) recognized that the ridge cannot survive as an island, and depends for its health on connections to the surrounding valleys, river systems and the Catskill Mountains. (Shawangunk Mountains Regional Open Space Plan: mtnscenicbyway.org/images/openspaceplan.pdf). Map courtesy of Behan Planning and Design.
Local leaders, landowners, and land managers can work proactively to preserve and restore connections in nature (connectivity) by working across political boundaries and property lines. While this cooperative approach makes ecological sense, it can be challenging in practice.
The 2017 conference will explore the importance of ecological connectivity, highlight case studies from New York, and engage participants in discussing the barriers and opportunities for preserving landscape connections in the Hudson Valley.
 Please check back for registration details as available starting in September, 2017.
If you would like to receive timely invitational and registration details, please send us your email address for our mailing list. mohonkconsultations@hvi.net

LIKE US ON FACEBOOK!!
---
[Updated Tuesday, February 21, 2017]