High Falls' John Novi
You are invited to join us on Sunday June 11, 2017, 5-8 pm, when Mohonk Consultations will present its annual Distinguished Achievement Award to John Novi, the "fearless and imaginative" chef who is internationally celebrated as one of the founders of New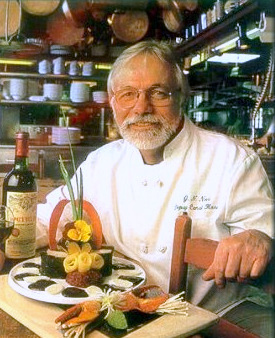 American cuisine. Locally, the High Falls native is also known as a tireless advocate for the preservation of family farms and Hudson Valley history.  His generous donations of catering services to agricultural, arts, educational,  environmental and historic group fund-raisers has made him a local hero to many local non profits . Click here to REGISTER NOW using a credit card via our processing partner NYCharities.
While many people know of John Novi's meteoric path to culinary stardom (within just one year of opening, New York Times food critic Craig Claiborne awarded Novi's DePuy Canal House 4 Stars, the highest accolade), many don't know that as early as 1966, John was on a mission to protect the D&H Canal and formed its first board of directors.  Recently retired as DePuy Canal House chef, John was instrumental in securing a grant that helped transfer this historic building to the D&H Canal Society.
Special guests Kevin Zraly, founder and instructor of the Windows on the World Wine School;  Steve Kolpan, Professor and Chair of Wine Studies at The Culinary Institute of America in Hyde Park; Janet Crawshaw, Publisher, Hudson Valley Table; Chris Marx, Dean, SUNY Ulster; and Michael Ryan, lead massage therapist at Mohonk Mountain House, will share memories of how Chef John helped launch their careers and inspired a new generation of chefs and local food enthusiasts.
To honor John Novi's passion for using local ingredients, Mohonk Mountain House's Executive Chef Jim Palmeri and Director of Food and Beverages, Robert LeDuc, will prepare a menu sourced from our local farms.
Guests will have the opportunity to bid for a dinner for six, prepared by Chef John, at a silent auction and proceeds will be donated to Mohonk Consultations. Mohonk Mountain House will donate the ingredients. The Mohonk Mountain House Parlor will open at 5 pm, and the program will begin at 6 pm.
REGISTRATION:  Tickets are $45 and may be purchased online here with a credit card.
Or you may mail a check to Mohonk Consultations, 1000 Mountain Rest Road, New Paltz NY 12561.
Note: Mohonk Consultations is a separate organization from Mohonk Mountain House.  For questions, please contact us at mohonkconsultations@hvi.net or call 845-256-2726.
If you would like to receive an emailed registration reminder please make sure Mohonk Consultations has your email address.  Please contact mohonkconsultations@hvi.net for more information.
[Updated 4/25/17]