Our forums are a two – three hour exchange of ideas with themes that have spanned a wide range of concerns from global eco-villages to lessons learned from the Hurricane Katrina disaster.
Each session begins with presentations from experts who provide the context from both global and local viewpoints.
The dialogues and discussions that follow have provided fertile ground for new conferences and coalitions. For instance, a 2004 forum, co-hosted with the Hudson River Sloop Clearwater organization, pinpointed threats to fresh water in the Hudson Valley. The intense discussions led to a future conference and the formation of the Hudson River Watershed Alliance (HRWA). Please scroll down to see the 2015 Forum announcement and those in earlier years:
A series of small groups consulting on climate change "café-style" in the Mohonk Mountain House parlor, 2008.
Past Events
2016 Beyond Rooftops: Expanding Solar Energy in Our Communities in collaboration with Mohonk Preserve. Over 80 attendees discussed ways increase the numbers of solar photovoltaic panels for various types of households; examples of large solar arrays on public and conserved lands; and how New York State supports these efforts.
2015 The Future of the Wallkill River at SUNY New Paltz.
Organized by the Village of New Paltz; SUNY New Paltz's Center for Research, Regional Education and Outreach (CRREO); DEC Hudson River Estuary Program; Riverkeeper; Town of New Paltz Clean Water and Open Space Protection Commission; Hudson River Watershed Alliance; and Mohonk Consultations. See video here: https://vimeo.com/126042890
2015  The Challenges Facing Existing Family Farms highlighted a panel of seven experts working  'on the ground' as farmers or in cutting-edge farm support programs in the Hudson Valley: Jean-Paul Courtens, Anna Elbon, Sara Grady, Elizabeth Higgins, Charles Hurd, Charles Noble, and Pete Taliaferro. Following presentations, dialog and Q&A, Forum participants engaged in round-table discussions focused on the issues and reported back to the group.  See the Poughkeepsie Journal March 28, 2015 article here.
2014 Lyme Aid and Tick Talk, Seeking Solutions featured updates on Federal legislative initiatives (Congressman Chris Gibson), current problems faced by patients and their health care providers (Dr. Kenneth Leigner and Meredith Johnson), and new solutions offered by biotech businesses such as US BIOLOGIC and community activist Jill Auerbach. See two recent articles by Dr. Leigner: Lyme Disease. Does It Really Linger? and Lyme Disease: The Sensible Pursuit of Answers.
Also attending were students from a group of 17 journalism and honors students under the direction of science journalist Sonia Shah, at SUNY New Paltz. Over four months they undertook a collaborative investigation into the science, politics, and history of Lyme Disease. See their final project here.
2011 Communities in Transition – Local Strengths, Local Resilience helped introduce the Transition Town movement in Ulster County and the need for building greater resilience for local citizens and communities.
2010 Planning for Biodiversity: What Have We Got To Lose? offered dialogue among developers, landowners, planners and conservationists on ways that communities can support and preserve.
2009 Hunger in the Hudson Valley, How Can We Help? made connections between many stakeholders in the process of producing and transporting food, including farmers, gleaners, food service administrators, food pantries and kitchens.
2008 Climate Change in the Hudson Valley: What Can We Do About It? presented in-depth exchange with local climate change experts focusing on ways each community can meet future challenges. Co-sponsored with Hudson River Watershed Alliance.
2007 Survival Lessons for the Earth: How Can Native American Models Help Us? discussed ways to guide communities toward sustainability through new and old ways of looking at relations with land – its history, inhabitants and uses. Plus the forum presented methods of empowering group participation using a round circle and a talking stick.
2007 Demystifying Permaculture brought together world and local permaculture experts who introduced principles of 'permanent agriculture: "the harmonious integration of landscape and people providing food, energy, shelter and other material and non-material needs in a sustainable way." Check out Hudson Valley Permaculture and Permaculture International websites.
2006 Lessons from Katrina: What is Our Local Plan? offered a reflective discussion for local leaders and citizens to learn from Katrina's disaster and to consider what local responses could be to mitigate loss and to create community support through collaboration and individual preparedness. Consultations' Board member, Clare Danielsson's opening comments on community and environment were of note.
2005 Eco-Villages: How Do We Get There from Here? was developed in response to challenges created by regional sprawl. International Ecovillage leader Albert Bates offered the Ecovillage concept as one way to create community and halt destruction of the ecosystem.
2004 Forming a Hudson River Watershed Alliance built on discussions from a previous forum and conference. Local watershed leaders discussed creation of a local alliance, based on the Chesapeake Bay and other models, to: educate, coordinate regional efforts, promote and support appropriate technologies and policies. Co-sponsored with Hudson River Sloop Clearwater.
2003 What Water Crisis? Global and Local Perspectives featured national and regional water experts who outlined the challenges plus solutions being tried in many parts of the world. Discussions generated the impetus for a regional conference on protecting fresh water, coinciding with the UN's "Year of Fresh Water."
2004 A Dialogue with Lester Brown, Economist and Environmentalist, author of the book, Plan B, came to join us and local leaders following lectures at Dutchess Community College, Bard College, and SUNY New Paltz. Discussions centered on world issues involving the interconnections of economics and the environment. Co-sponsored with the Hudson Valley chapter of the World Affairs Council.
2001 International Terrorism and Our Response to It provided a time for individual and group reflections from many cultures on the events of 9/11 by board members and invited guests, based on deep feelings of pain and grief. Publication: (Booklet) From Crisis to Opportunity: Reflections on September 11.[No longer available]
1999 Biotechnology: How it Will Affect the Future of the Hudson Valley brought together university scientists, state agricultural leaders, local farmers and representatives from a biotech corporation to debate associated gains and risks.
1998 New Directions for Crime Prevention: A Forum for Environmental Alternatives (1998) joined professionals, policy makers and community to consider the factors in childhood that cause crime and to identify new approaches to the problems of crime and how we attempt to resolve them, including improvements in the criminal justice system. Publication: Seeking New Directions for Crime Prevention, 1998.
1995 Improving Peer Mediation in the Schools presented discussions to improve conflict resolution in the schools, with representatives of Mediation Centers from seven counties and local high school educators.
1989 What Biotech Means for the Hudson Valley and Beyond hosted biotech experts, local farmers and MC board members who discussed the impact of bioengineering on local agriculture and planned a public meeting.
1984 Multinational Corporate Executives for more Effective Role for the Private Sector in International Development focused on more active corporate participation in the revitalization of the Hudson River Valley environment.
1981 Revitalization of the Hudson River Basin was a meeting with local business, government leaders and educators, resulting in a publication and a baseline for action. Publication: Report on Revitalization of the Hudson River Basin, 1982*
Projects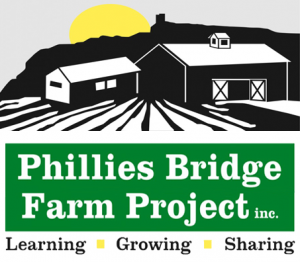 1994 Project: Phillies Bridge Farm Project. Co-founded the non-profit organic farm, a Community Supported Agriculture (CSA) project in New Paltz and Gardiner, for the education of adults and local school children in sustainable agriculture. The Farm Project became independent of MC in 2001. Phillies Bridge serves to educate both children and adults in workshops, summer camps, school programs, and internships, while collaborating with other local CSAs to raise consciousness about the value of agriculture, open space, and the idea of stewardship of the land for future generations.
1987 Highland Middle School Tree Project. A local effort to educate youth on global and local environmental challenges and opportunities. Publication: The Tree Project. A Model for Developing Global Understanding at the Middle School Level, 1998*